How to Fill Automatic Transmission Fluid 2003 Pontiac Grand am 2.2 1999-2005
On my 2003 Grand am, the Transmission doesn't have a dipstick. So it can be a little complicated to check to the fluid sometimes. for video click below.
To add fluid to Automatic Transmission, start by parking on level surface, you may have to jack up and place on jack stands, NEVER GET UNDER A VEHICLE THAT ISN'T ON JACK STANDS. MAKE SURE YOU ARE SAFE!!!!!
Step 1
Open hood, after hood is open, locate the Transmission fill cap and make sure you have a long funnel, you will need it coming up. The fill cap is located on diver side of the Intake Manifold. It is kind of underneath the big air hose going from the Intake to the Air Filter. You can also find it by looking straight down from the Master Cylinder/ Brake Reservoir. It is the big red cap located on top of Transmission on drivers side.

PART 2
Loosen the Clamps on large tube between Intake Manifold and Air Filter and Remove so you have enough room to reach Transmission Cap. (I have small arms so I can reach the cap without removing tube, but its hard to have enough leverage to replace Transmission Cap without removing Intake Tube.)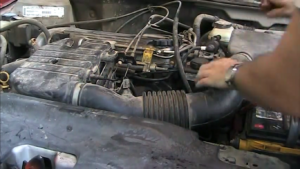 Now That Tube is out of the way, you should be able to reach the Cap. Remove the RED CAP and place a Large Funnel into hole.
STEP 3
Locate the Over Flow Fill Bolt On Bottom of Transmission underneath vehicle. It Is Just Above the Transmission Pan between Engine and Transmission.
DO NOT REMOVE WITHOUT ENGINE RUNNING! FLUID WILL GUSH OUT WITH ENGINE OFF!!!!!!
bolt
STEP 4
Start the Engine and Remove Bolt mentioned Above. If Fluid is Completely FULL, the Transmission Fluid will Trickle out, a Trickle is between a Drip and a Stream.
DO NOT SHUT OFF ENGINE WITHOUT BOLT PLACED BACK INTO TRANSMISSION. FLUID WILL RUN OUT EVERYWHERE!!!!!!!
STEP 5
If no Fluid Trickles out, then it is low, Slowly add Dextron 3 Universal Transmission Fluid To Funnel placed into RED CAP HOLE previously mentioned, only add a little at a time, checking underneath each time for it to be running out. (place something to catch fluid to prevent making a mess.)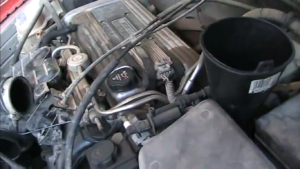 STEP 6
Once Fluid Trickles out, then I like to get in car and "run though the gears" well call it….. Start with it in park and HOLDING FOOT ON BRAKE so vehicle cannot move, and slowly move shifter into each gear and give enough time for transmission to lock into each gear, you should be able to feel it. so start in PARK, the REVERSE, NEUTRAL, DRIVE, 3,2,1, (OR whatever is there, I'm not looking at shifter this second in time….) then slowly go back to PARK letting each gear "lock" in. Check Fluid Trickle again, The trickle will have usually stopped by now. If Needed, add more Fluid till Trickle Starts again.
STEP 7
With engine still running, REPLACE OVERFLOW BOLT. DO NOT OVER TIGHTEN, but make sure it is good and tight. just a little past snug. The aluminum transmission housing expands a little as it heats up so it can strip easily while replacing bolt.
Once Bolt is Replaced, you can shut off engine finally.
Remove Funnel and Replace RED CAP to Transmission.
Replace Tube going to Air Filter, and anything else you removed.
Once Completed, then shut hood and job is done.
Thanks for visiting and remember to check out my Youtube Page