Powering 12V DC CFL – How to Use Computer Power Supply as 12V DC Power Supply
Today, were gonna be talking about how to use a Computer Power Supply as a 12v dc Power  Supply. I have previously bought some SPECIAL CFLs THAT RUN OFF OF 12V DC, NOT REGULAR CFLs THAN RUN OFF 110V AC!!!!!(like whats inside powering most houses.)
Now that's been talked about, we can get on to how to "Power On" your "Computer Power Supply"
STEP 1
DETURMINE MOTHERBOARD "REMOTE" WIRE AND "GROUND" WIRES
After doing a bit of research, I learned that basically; For the motherboard to "Turn On" the Power Supply, it uses a "Remote Wire" to "Ground" the Circuit, thus whenever the circuit is complete, it powers the Supply "On" and obviously there's a little more to it, but for this project, that's all you really need to know.
While I was looking online, it said that normally, the Remote Wire is one of the thin wires that goes to the motherboard plug, and they said it normally the thin purple wire, but on mine, it was the green thin wire. Your Supply may be different than mine though so you may have to try a couple wires like I did till it turns on.
I just cut the wires after I tried a couple different ones by using a small 2 inch "jumper wire" once I found out that my Green Thin Wire was my "Remote Wire", I cut one of the multiple Thick Black Ground Wires, (I just cut the Ground going to the Motherboard Plug simply because it was closest, but any of the Ground Wires would have work.)
STEP 2
CONNECT REMOTE WIRE TO A GROUND WIRE
(I plan on attaching a switch later, I would make a permanent connection, but if you pull to much power, it will "trip" the Power Supply like a Breaker, and to Reset it, just UNHOOK Remote Wire, then Reattach, which will power back on, so there's needs to be a switch of some kind.)
Now than I have power, my 12V DC CFL, powers on and the Light "Lights Up"
STEP 3
CHECK VOLTAGES IF ANY PROBLEMS
Computer supplies have multiple voltages so make sure that you are using one of the 12v plugs.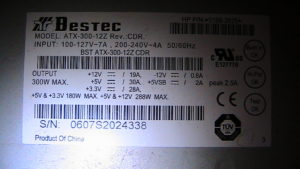 This Image is off my Power Supply, as you can see it has 5 different various voltages with also various Amps. when I checked with my Voltage Meter, the 12v dc lead read 11.5v dc to 12.0v dc.
THANKS FOR VISITING. ANY QUESTIONS OR PROBLEMS CONTACT ME ON YOUTUBE