How to Make Pizza Crust
Step 1:
Gather needed ingredients – 1 package of active yeast (2 1/4 teaspoons), 1 teaspoon sugar, 1 cup warm water, 2 1/2 cups flour, 2 tablespoons olive oil, and 1 teaspoon salt.
Step 2:
Preheat oven to 450°F. In a medium mixing bowl dissolve yeast and sugar in warm water. Let stand until creamy. About 10 minutes.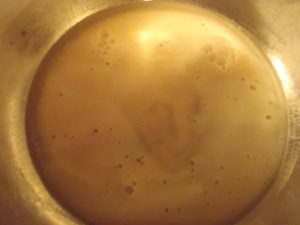 Step 3:
Stir in flour, salt and oil. Mix until smooth and let rest for 5 minutes.
Step 4:
Turn dough onto lightly floured surface and pat or roll into round. Transfer curst to a lightly greased pizza pan or bakers peed dusted with cornmeal.
Step 5:
Spread with desired toppings.
Step 6:
Bake in the preheated oven for 15-20 minutes or until golden brown. Let cool for 5 minutes before serving.
ENJOY!!