How to Remove the Husk/Skins Off of Garlic Cloves
Step 1:
Gather Supplies – Jar and Garlic
Step 2:
Bust the garlic bulb into its individual cloves.
Step 3:
Place cloves of garlic into jar and screw on the lid back onto the jar.
Step 4:
Shake the jar to loosen the husks/skins.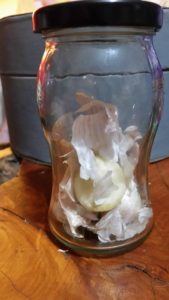 Step 5:
Dump the cloves of garlic from the jar.
Step 6:
The cloves of garlic should be huskless/skinless or the husk/skins should fall away with little effort.
Step 7:
To store simply use the same jar you used to loosen the husks.